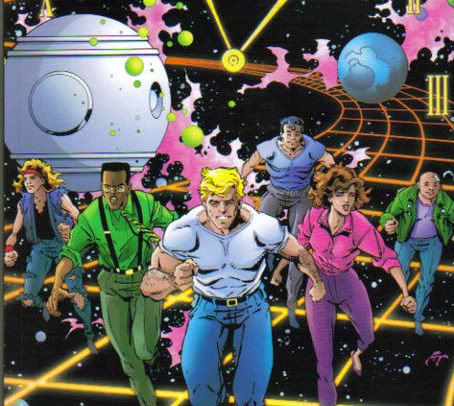 (Corky Baxter, Jeff Smith, Rip Hunter, Daniel Hunter in back with miss colored hair, Bonnie Baxter and Tony.)
In 1959 Bonnie Baxter was the love interest of Rip Hunter, Lewis Shiner thought that in his series it should be more apparent that she was a desirable woman. The results were interesting to say the least. When we first meet Bonnie it's because her then boyfriend Cave Carson (who was part of the Forgotten Heroes with Rip before the Crisis) needs to talk to her. Or rather break up. Bonnie having come over for *ahem* other rather obvious reasons is understandably peeved. This sets the tone that she has with most of the men she relates with in the book. These relationships she has with them tend to disappoint her. Frustrating her with the stubbornness of the person (Rip), being rejected (Cave) or the overprotectiveness (Jeff.) 
As a way to make up for not only breaking up with her but also firing her (she was his research assistant) Cave finds her another job working with Rip. Right away there's a definite attraction between her new boss and her. But unlike Cave and later Jeff, Bonnie stops things before they get too far. Rip was unaware that his best friend Jeff Smith was moving in on her for a long time. Once he found out Rip does the honorable thing and backs off completely. 
Even so throughout the book there's a tension between him and Bonnie. Both deny it's anything serious yet they bicker like an old married couple. Bonnie is openly affectionate to both Cave and Jeff in front of a clearly annoyed Rip. Yet she also seems so proud of him for his success and later decides to help with the mission herself. And somehow along the way she figures out that her addition to the cause is actually important to her. 
New Earth:

Bonnie Baxter (and likely the rest of the Time Master save Rip) was "erased" from the timeline as a baby thanks to the traitor Jason Goldstein, who is not a character in this series.
Tony was found by Corky Baxter "admiring" Dan Hunters' car. To prove she wasn't a thief she used the computers inside the lab to show her "bum rap" police file. Toying around with the computer further she managed to bring up one of Rips' projects and eventually they worked out an arrangement to have her work for them. Corky was less than thrilled with how fast she was accepted into the gang. Tony joined the cause but shortly after Bonnies' mission the stress became too much for a few of them to take and she decided it was time to leave. Meeting up with her sister Tony hasn't been seen since.