You'd think that given all the attention previous writers gave on Max and Ted that the guy who not only created Booster Gold but wrote most of his series would have a lot to say on the matter. Jurgens' Max is pretty much nonexistent, only viewable through Boosters' thoughts on him. I don't recall anyone really focusing on this side of Teds' death before Jurgens. No one else showed how Maxs' betrayal affected Booster before he wrote it, almost as if Booster didn't care about a friend suddenly turning into an enemy. The first real acknowledgement (outside Johns "we never liked Max" POV) was in issue #16 of the Reality Lost arc, Jurgens' first storyline once he officially took over the series. After saving the life of an American solider named Cyrus during an unexpected trip to World War 1 Booster finds out that he just saved the life of the man who's bloodline will spawn Max, resulting in his best friends' death.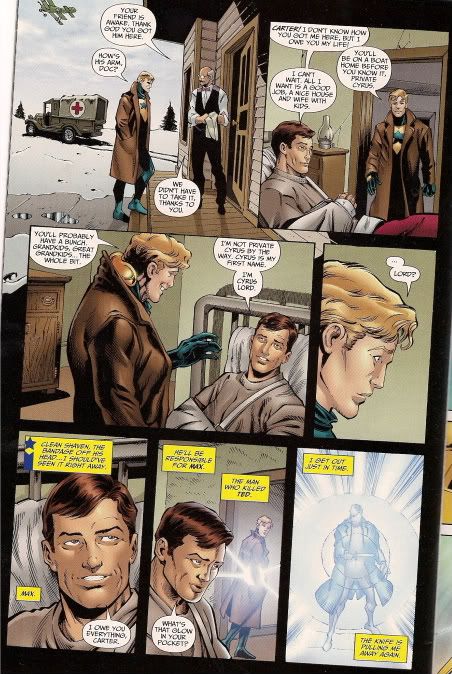 While Booster does distress over this it's not a major focus point of the arc and does not carry over as a badge of guilt for the rest of the series. Which is more than fine with me since Booster already suffers enough guilt that other writers would likely repeatedly hit you over the head with. In fact many have with the repeated visits to Ted in the past. Jurgens doesn't really get into Ted's death nor Max taking his life until the two part tie in to Blackest Night Dead Ted.
If the Johns/Katz run dealt with Boosters' denial over Teds' death this arc showed his acceptance. It doesn't get into what his current feelings on Max were but it does explore how raw his emotions were at Teds' funeral. Really his thoughts on Max are very brief and anger filled but given the time period it's fitting. He's furious that the man who introduced him to his BFF ended up murdering him.

It gives a lot of open interpretation to the things he's not saying. And really every single thing he thinks gives you a lot of insight on his mindframe and the characters involved. Maybe it's not as in depth as the others but still more fitting.

(After reading Giffin/DeMatteis' BG stories I think the panel with Barda makes SOOO much sense now.)